It's almost that time of the year again: The one day of the year when annoying little kids are encouraged to run around and beat each other with their overflowing sacks of candy that are going to end up giving them cavities and/or inflaming their ADHD. Every year, you see more and more stupid and weird halloween costumes. This year, there is certainly no shortage.
1.
Kate Gosselin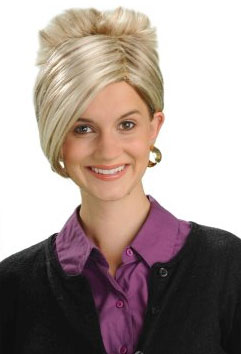 The picture is pretty self explanatory. I don't know about you, but if I were a little girl, I wouldn't idolize Kate Gosselin. What happened to simply dressing up like a princess?
2.
Harry Potter Dementor Costume
You know, I'm not a big Harry Potter fan. I haven't read the books, and I only saw like three minutes of one of the movies before I started daydreaming. But I do not remember anything about a black anteater with a robe on. In fact, the costume doesn't look anything like this picture I found of a dementor:
3.
Swine Flu Worker Pet Costume
Yeah, there's nothing better to lighten the mood of the swine flu pandemic than dressing up your dog like a swine flu worker. I guess we could also dress our pets up like they actually have swine flu. It'd be called "Play Dead.. Oh crap, you really are dead because you didn't get your flu shot".